how to start vlogging
Hi, Guys Junaid Khan Here with another interesting topic on how to start vlogging. YouTube is not only for entertainment and enjoying viral videos. YouTube is The Second Most Visited website on the internet. In the early stage of the platform, people used it only for posting videos. Today it's the million-dollar industry. The beauty of this Platform is open for everyone. And some people use it to describe their life journey for engaging the audience. In this blog, we try to discuss what is essential for vlogging.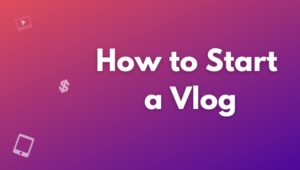 Understanding the audience and finding a niche
The first thing is to figure out your niche and your target audience. Your niche is the most important thing in your YouTube channel. Are you focused on publishing videos on a particular topic or posting random videos. You should focus on your main niche or a single topic. gaming niche is the biggest niche you can make videos or vlog on gaming. pewdiepie is the biggest Chanel on YouTube as a gaming channel
Some people make videos on beauty. Rcl beauty is the best Chanel as a beauty. You can Make beautiful long vlogging videos in which you show people how to do makeup or other stuff. Craft travel blogs are also a popular niche. Do something which you are passionate about doing. If you are Business then you crater videos on this.
Then Important of knowing your audience
After you found your best niche need to know-hows your audience is and what videos they like. For creating success you need to know your perfect audience and make target that Inspiration in vlogging After you create your videos you should inspire by other vlogging Chanel on youtube. Watch their content and learn from their method. It's not mean you copy them. You should Make your own Content. People like unique content.
Learn about Youtube Policy Click Here
Properly SEO
Properly SEO and title on your videos and make Chanel pages and thumbnails and keywords. And during watching vlogging videos analyses how others are promoting their vlog.
 Make your channel and Make brand yourself
It's time to create your channel creating a channel is free and easy. After creating a YouTube channel you ready probably YouTube Policy to avoid ruining your hard work.
Invest In good gear
You should invest in good gear and products. You do not need to invest thousands of dollars in cameras. In today's world, you make good videos also on your mobile phone. You also go with a DSLR camera.
Upload and optimize your content.
Uploading videos to your YouTube channel is so simple. Upload video with high-Quality results. Optimize your video with a properly tagged and title. so your video is a High Chance to rank.thank you so much for reading this blog. kindly share this information for more interesting topics.