Apps to download on Apple Watch
Today I am going to instruct a new amazing thing.  Apps to Download on apple watch .Before going towards apple watch apps let's uncover what is Apple watch.
What is Apple Watch?
Apple Watch is the wrist wearable watch. By using an apple watch you can send and receive messages and calls. You can also listen to music, aware of your location. You can also take any type of details like where you're and what type of place is this. Using cellular data you can do anything without your phone even when you are not out of the country.  Apple watch was launched on 24 April 2015 by Apple.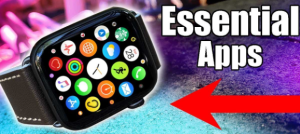 Apple Watch Apps
Now, I am going to tell you the best different Apple Watch Apps. Which are all beneficial for apple watch users.
Best Apple Watch Traveling Apps
1. British Airways
If you were flying on British Airways, and want all details about your flight's timing destination time, the status of the flight, and whether your is on time or not. British Airways Apple Watch app provides you with every type of information.
 2. Apple Maps
By using the Apple Maps app you can will aware of your location. Ask Siri to direct your location using your watch then Apple Maps will give you the option to press Start. Then it will give you the information step by step. It will vibrate when the next step is coming to pass.
Click Here to Know Hide android app
3. Citymapper
Citymapper apple watch app tells you about the nearby transport status by the press on some buttons.  This app also gives you directions to any saved address. It will also tell you the direction of your home.
4. iTranslate
This app will translate the words which you are speaking on it by pressing the microphone. There are several languages available on iTranslate from our experience.
Best Apple Watch Informative apps
1. Weather
This is an adequate app which provides quick and easy information on your wrist.   The Apple Watch weather app shows you the hourly outlook for each location you have set up on your iPhone. It is easy to read and understand, and you can access it quickly.
2. Dark Sky
Dark sky apple watch app creates forecasts for your lovely location. It will offer you minute-by-minute predictions and hour-by-hour forest for your next week and day.
4. One Football
With this app, you can follow thousands of teams, leagues and competitions worldwide. You can select your favourite players, national teams and leagues to receive instant updates and scores when they happen. It is a very useful app for football fans.
4. ESPN
This app is very great for those who are sports fans. This app gives quick access to score across cricket, football, tennis and golf etc. As Onefootball, you can personalise the app to get stimulated for your favourite teams.
Best Health and fitness apple watch apps.
1. Withings Health mate
Withings Health Mate Apple Watch record your weight, and your sleeping time. By using this app you can see your weight history and activity without opening your phone. In short, it provides a stat quickly about health activity.
2. Seven
This app tells you what to do in seven minutes workout. Depending upon which workout you brought and unblock, upper body, lower body, or random body. This app provides a picture of the exercise you need to perform. This picture appears on the watch's face, which is surrounded by a count-down circle.
3. One Drop
One Drop app is a very beneficial app for diabetic patients.   Using the app, you can view daily goals progress and monitor glucose levels, as well as log glucose, meds, food, and activity directly from your wrist.
4. Map My Run
Without touching your iPhone, you will be able to start a running, cycling, or walking workout. The MapMyRun iPhone app will then display the duration, distance, and calories burned during the workout. You can also pause, finish, save, or discard the workout.
learn Free tools for amazon
[su_button id= "download" url="https://adnantechyt.com/2022/10/31/4-free-tools-for-amazon-business/" style="flat" size="7″]Next Post[/su_button]