What Is Trust Wallet 2022
Hi friends, welcome to my blog. Today, I come back with another informative blog. I'm going to telling you about "what is trust wallet 2022". Trust wallet was founded in 2017. Besically trust wallet is the Cryptocurrency wallet which we are using as a wallet where we can stock our crypto coins. It is the one of the best crypto currency wallet in the world. After the Binance it is the most famous crypto wallet. Trust wallet is famous in users because it is very secure and reliable. Trust wallet is officially decentralized.
More Info About Trust Wallet
The buying and selling process of deposit and withdraw in trust wallet is very easy and simple which make easy for users. After Binance it is second best option for the crypto investors. It has 30million clients. It has big number of client. It provide there coustmers very trusty service it's time give 24/7 service to there clients. If you are facing some problem you'll find repaid reaction from trust wallet team. In trust wallet you'll find 70 Blockchain, one million crypto assets like Bitcoin, Ethereum, BUSD and USDT.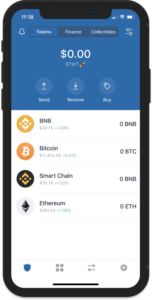 How Trust Wallet Work ?
Trust Wallet is based on multiple coins where users can get easily access to multiple chains. In this wallet each and every Blockchain is accessible. There is some interesting and useful features in trust wallet like staking, Swapping and purchasing. First we talk about swapping, here user can swap between coins. For example, you can swap BEP2 and ERC20.
Staking is another useful features of trust wallet. There is staking option like BNB, ETH, DOGE COIN and many more. You can stake many coins in trust wallet. Next is purchasing trust wallet allow there users to purchase Cryptocurrencies. You can buy crypto with your credit and debit card, Google pay and Apple pay.
Deposit with bank card
You can deposit in trust wallet with your bank credit and debit card. Bank enable there credit and debit card for deposit in trust wallet. Deposit with your bank card and buy your crypto coins.
Google pay
You can easily deposit in you wallet with your Google pay account. Using Google pay you'll get your deposit repaidly in your trust in wallet.
How to Create a Binance account
Apple Pay
We can also use apple pay for deposit in our trust wallet account. Deposit with apple pay is very easy and secure. Apple pay allow there clients to deposit direct in trust wallet. Deposit with apple pay and buy your crypto.
How To Create Account On Trust Wallet
First download Trust Wallet app.
Now click on register account.
Enter you email address on which you want to make your trust wallet account.
Verify your email address.
Enter strong password.
This is process of create account on trust wallet follow this process and make easily account.So Hopefully, you guys understand about what us trust wallet and how it's work. For more informative article keep following our website on daily bases. Thanks!
code                        bt6678