How To Create Binance Account
Hi guys, welcome to my other blog. Today I bring another interesting and useful topic. We'll talk on the app which name Is Binance. You guys may listen to the name of Binance on different social media platforms. Most people want to know how to create an account on this app so today I'll make help you make an account on the Binance app. I'll tell you the complete process of making an account step by step which make it easy for you to understand.
What Is Binance App
Basically, Binance is a cryptocurrency trading platform. Where we can trade cryptocurrencies. It provides a crypto wallet for storing your funds. This is the most famous and best crypto trading broker in the market and has 50m+ clients. This very reliable and safe crypto trading platform. Binance is mostly liked by people because of its fast and easy method of trading. You can easily buy or sell your crypto coin on this app. It offers crypto to crypto trading and there is more than 600 cryptocurrency for trade like Bitcoin, Ethereum, BNB, Dogecoin, lite coin, and more on. Binance charges no fee on the deposit of crypto but it charges a fee for withdrawing crypto it's depending on the amount of crypto.
Method Of Creating a Binance Account
The method of creating an account on Binance is very easy and simple you can register your account with your email address or phone number.
First, download the Binance app and install it.
If you want to make an account on your mobile number then enter your mobile number.
If you want to make an account on your email address then enter your email address.
Verify your email address or mobile number.
Enter the strong password which should have minimum of 8 strong characters.
That is how you can register your account on Binance for more verification and provide your CNIC which will make your account more secure.
How To Deposit On Binance
You can deposit on your Binance account with your bank card or other external wallets. You can deposit on the cryptocurrency on which you want to deposit. Most people use stablecoins for deposits or withdrawals like USDT, and BUSD. These are stable coins and they remain stable in any situation of the market. So mostly people use stable coins usdt and busd for trade so before trading first deposit on usdt or busd buy your bank account. Another process is you can deposit with your external crypto wallet like a trust wallet. For this method go to wallet select your coin and then select deposit and copy that address and use this address on your external crypto wallet for deposit.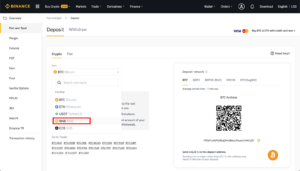 You can also deposit on your wallet from the p2p platform. Where you can't get a deposit in usdt, busd, or bitcoin. You just have to select the method on which you want to deposit then you'll see many sellers who want to sale crypto you can buy crypto by sending them payment to their bank account and they'll release your crypto.
Method Of Taking withdrawal
You can withdraw your cryptocurrency profit on stable coins like usdt , busd. Then you can transfer to your other external wallets. And if you want to take withdrawals in USD, Pound, Euro, Or your country's currency then go to the Binance p2p platform and select your currency then you'll see buyers ads who want to buy your crypto and another method you can make your self-ad on your Binance p2p where you can easily sale your cryptocurrency. This is how you can take withdraw easily. Hopefully, you guys like my today blog and I hope this will make it easy for you to understand of Binance app. For more informative topics keep following our blog on daily basis. Thanks
Code                                                                                Slkemerg 203