How To Make Money From Facebook reels
Hi, Guys in This Video I going to tell you How To Make Money From Facebook reels. You know in YouTube shorts YouTube Makes separate funds. You Upload Lengthy videos on the same channel. With the help of this, your subscriber gained and views also gained. Same as Facebook opened Facebook reels. In Facebook reels, you upload Videos one-minute length and 30 seconds it includes both options. And one money Interesting thing I tell you guys Facebook opened Monetization in Pakistan. You can copy Videos from Tiktok and Upload them on Facebook reels.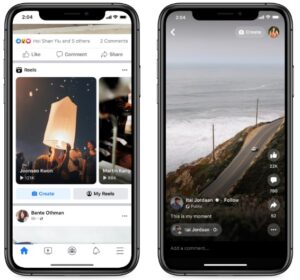 Content Creators Now Make Money from Facebook Reels Videos
Meta invest big in Facebook Reels including the feature as the company TikTok for short video making. The content creators who are Eligible content now embed ads in their reels videos and the viewers have the latest option for entertainment on the app.
Criteria of Facebook Page Monetization
The content creators who have more than 10,000 followers on their Facebook page at least have five videos. Morley, they have 600,000 minutes of views past 60 days and are qualified to insert ads in their reels videos. These new ads options are now available in the U.S Pakistan India and Mexico, and they expand to over 50 countries in March. I also write a post on How to Monetize Facebook page in Pakistan If you people are new and do how to Monazite Facebook page then Link below the post.
Facebook page monetization Method
A platform for Making Facebook Reels Video
You can use a Platform which Name invideo.io you can use this Platform for Facebook reels video making. There are so many options on this Platform. Like YouTube video editor Ad templates slides slow video add maker and many others. There are So many things in this which are free Of cost and you Use it for Making reels video.
Method OF account creating on this website
First of All, you have to Sign up From the Top of the website. Then you have to type your email mobile number full name and password and create your free account. You have to pick the Text to Video option. You Have to pick the option Vertical for Facebook Reels. There are many templates to show you there. You Have to Type the content that you want to create. You also choose this content from Google searches. Creating a video from this there totally automatic. You don't need to do anything. There is everything free from this. Make a video from this and upload it On Facebook Reels.
Thank you so much for reading today's article. Make Sure To Subscribe to Our Blog For More Interesting Content.
Code                                                                     Txrained  6644